Bounced Email from Sierra
Occasionally the Help Desk receives reports of problems sending circulation notices from Sierra.  The emailed notices might bounce or be returned as undeliverable, or they might simply never arrive in the patron's email inbox.
Troubleshooting Bounced Email Issues
Check to see if the email was marked as spam.  Sometimes the emailed notices will be delivered but filtered into a junk mail folder. 
Try sending the notices to another email address.  For example, see If the notice arrives at a gmail.com address, but not at a university (.edu) domain.
Look at the undeliverable message to see if a particular domain needs to be unblocked.
If the problem is related to a particular domain, the institution may need to update their email configuration to allow emails sent from the Sierra server, or possibly remove the domain from a block list.
SPF Records
To allow emails sent from the Sierra system, the institution will need to configure their SPF record with the IP/DNS name of the Sierra server.  Please contact the help desk for the IP/DNS name for your cluster.
Configure the SPF record as follows:
Current record (example):
V=spf1 a ~all 
Suggested new record (example):
V=spf1 a ip4:123.456.78.912 ~all
Where to Find SPF Records
You can use MXTOOLBOX to search for a domain and see the SPF record:
https://mxtoolbox.com/SuperTool.aspx?action=txt%3a&run=toolpage
Example SPF record: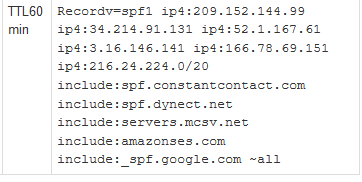 Removing a Domain from a Block List
A campus can remove themselves from an Outlook block list by requesting removal from Microsoft via the Delist portal.  They will need the IP addresses of all the outgoing mail servers that are being blocked.
Delist portal: https://sender.office.com
They can also contact Outlook Sender Support to have an IP whitelisted:
https://support.microsoft.com/en-us/supportrequestform/8ad563e3-288e-2a61-8122-3ba03d6b8d75